Gifts For You – New Webinars with Special Guests
Ho you know the 12 Days of Christmas actually starts on Christmas Day? 
So we're still celebrating the Christmas season and with that thought, we want to roll out some special Christmas gifts to you and your family and friends. 
Our Gifts To You
We have recently partnered with a best-selling author and PBS host, Tom Hegna.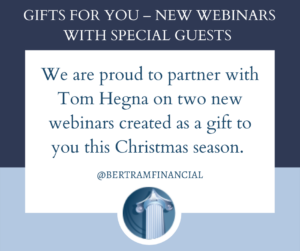 We are proud to partner with him on two new webinars created as a gift to you this Christmas season. 
Have one specifically for those who are working towards retirement and saving and trying to figure out how to get there.
It's called, "Who Wants To Be A Millionaire," and in this webinar, Tom will show you how YOU can be a millionaire!
Every American has that opportunity. So make sure if you're working towards retirement, if you have kids and grandkids that are in that spot, make sure you send them this and let them watch, "Who Wants To Be A Millionaire" and get some wisdom from Tom Hegna.
In this webinar, Tom talks about the ways to reduce or kiss risk goodbye in retirement and how to make sure you create a paycheck that's going to make sure that it pays all of your expenses in retirement and a play check, so you have money to go do what you want and live your dream retirement.
Please be sure to check these out and pass them on to everyone. Share these Christmas gifts with any of your family and friends. 
I know that you will find a lot of wisdom in Tom's webinars and we'd be excited to hear any feedback you have for us from them. 
Enjoy your time this season with your family and Merry Christmas again with these gifts. 
---
We are financial advisors serving clients in Mineral Point WI, Dodgeville WI, Platteville WI, Lancaster WI, Fennimore WI, Boscobel WI, Richland Center WI, Muscoda WI, Spring Green WI, Mazomanie WI, Sauk City WI, Middleton WI, Madison WI, Fitchburg WI, Verona WI, Mount Horeb WI, Barneveld WI, New Glarus WI, Monroe WI, Belleville WI, Oregon WI, Stoughton WI, Darlington WI, Cuba City WI, Hazel Green WI, Belmont WI, Dubuque IA, Freeport IL
Want to share this blog post? Click the links below!